E.coli O157: H7 PCR komplet za detekciju
Detalj proizvoda
Oznake proizvoda
E.coli O157: H7 PCR komplet za detekciju (liofilizirani)
48 testova / komplet, 50 testova / komplet
Escherichia coli O157: H7 (E.coli O157: H7) je gram negativna bakterija koja pripada rodu Enterobacteriaceae, a koja stvara veliku količinu Vero toksina. Klinički se obično javlja iznenada s jakim bolovima u trbuhu i vodenastim proljevom, praćen hemoragičnim proljevom nekoliko dana kasnije, što može dovesti do vrućice ili bez nje, te smrt u težim slučajevima. Ovaj komplet je pogodan za kvalitativno otkrivanje Escherichia coli O157: H7 u hrani, uzorcima vode, izmetu, povraćanju, tečnosti za jačanje bakterija i drugim uzorcima koristeći princip PCR-a u stvarnom vremenu. Komplet je SVIH SPREMNI PCR SUSTAV ( Liofilizirana), koja sadrži enzim za pojačavanje DNK, reakcijski pufer, specifične početnice i sonde potrebne za fluorescentnu PCR detekciju.
Komponente
Paket
specifikacija
Sastojak

E.coli O157: H7 PCR mješavina

1 × boca (liofilizirani prah)

 

50Test

dNTP, MgCl2, Primers

, Sonde, Reverzna transkriptaza, Taq DNA polimeraza

6 × 0,2 ml 8 epruveta s trakom

(Liofilizirano)

48Test

Pozitivna kontrola

1 * 0,2 ml epruveta (liofilizirana)

 

10Test

Plazmid koji sadrži E.coli O157: H7 specifični fragmenti

Rastvarajući rastvor

1,5 ml Cryotube

500uL

/

Negativna kontrola

1,5 ml Cryotube

200uL

0,9% NaCl
Skladištenje i rok trajanja

(1) Komplet se može transportovati na sobnoj temperaturi.
(2) Rok trajanja je 18 mjeseci na -20 ℃ i 12 mjeseci na 2 ℃ ~ 30 ℃.
(3) Pogledajte naljepnicu na kompletu za datum proizvodnje i datum isteka.
(4) Reagens u verziji s liofiliziranim prahom treba čuvati na -20 ℃ nakon otapanja, a ponovljeno zamrzavanje mora biti manje od 4 puta.
GENECHECKER UF-150, UF-300 fluorescentni PCR instrument u stvarnom vremenu.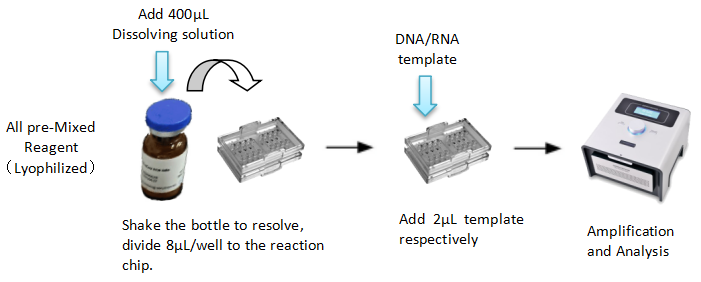 b) verzija sa 8 traka s dobro trakom: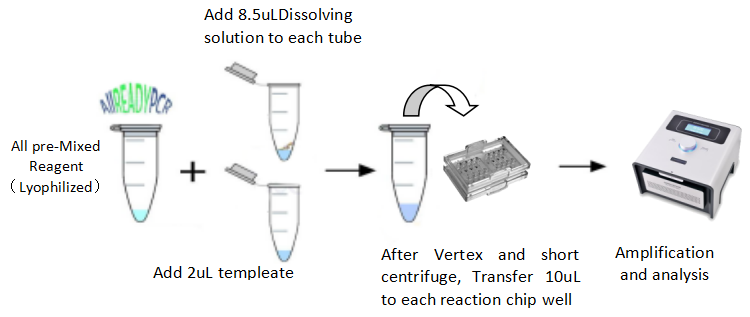 Preporučeno Postavljanje
Korak   

 Ciklus

Temperatura (℃)  

Vrijeme

Fluorescentni kanal

1

1

95

2min

 

2

40

95

5s

 

60

10s

Sakupiti FAM fluorescenciju
* Napomena: Signal FAM fluorescentnog kanala prikupljat će se na 60 ℃.
Tumačenje rezultata testa

Channel

Tumačenje rezultata

FAM Channel

Ct≤35

E.coli O157: H7 pozitivan

Undet

E.coli O157: H7 negativno

35<Ct≤40

Suspicious resut, retest*
*If the retest result of FAM channel has a Ct value ≤40 and shows typical "S" shape amplification curve, the result is interpreted as positive, otherwise it is negative.
---
Previous:
MIKROBNI AEROSOLSKI UZORAK
---